User experience (UX) refers to any interaction which a user has with a product or service online. User Experience Design considers each element that shapes this interaction, how it makes the user feel, and how easy it is for the user to accomplish their desired tasks. This could be anything from how a physical product feels in your hand, to how straightforward the checkout process is when buying something online. The objective of UX design is to create simple, efficient, relevant, and all-round pleasant experiences for the user.
While User Experience is a collection of tasks focused on the optimisation of a product for its effective and enjoyable use, User Interface (UI) Design is its complement; the look and feel, the over-all presentation and interaction of a product. A UI without UX is like a painter slapping paint onto canvas without a thought, while UX without UI is like the frame of a sculpture with no paper mache on it. An impressive product experience starts with UX followed by UI. Both are essential for the product's success.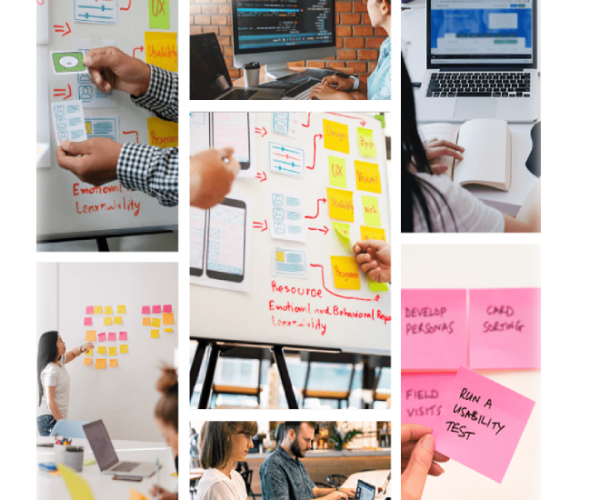 We are a professional design company having a team of creative designers who believe in empowering people, businesses, society, and world at large with their creative and interactive designs. Our innovative tech-based processes blend efficiency and effectiveness that drives value to your business. Excellence is our habit as we settle for nothing less! We create designs to inspire and attract.
Our design masterpieces are crafted with passion, creativeness, and a lot of discipline. As a UX consultant, our first step is always about gaining understanding and knowledge. We dig deep to know everything possible that will help us craft a better design solution for your requirement. We begin with understanding the company's vision and the set project goals. Study and analyse the product's feasibility by taking in account the competition in the market and lastly by understanding the user's needs and their behaviour craft the most effectual creative design prototypes.
We draw insights from the research data and define the key performance indicators for the project. This helps to attain a design that makes an experience genuinely satisfying for users. It's all about bringing emotions to logic. We map empathy and cognitive science to derive on a product that is not just usable but appealing as well. We give life to designs by adding visually appealing elements that evoke emotions and make them a reality. The data is converted to graphical interface for the user to view and interact with it.
We choose the right platform to make the code device friendly and micro-interactions are coded for awe-striking our target audience. We validate that our code is in line with W3C standards.
"Design isn't finished until somebody is using it."
– Brenda Laure.
Seamless experiences driven by international standards in collaboration with out-of-the-box ideas are the specialty of Kwix Global's designs helping your business accomplish its goals. For all your requirements – be it a simple website design, a complex data driven web application development, an ecommerce website, a native or cross platform mobile app development, a logo and brand identity design, a video production or a fully-fledged digital marketing campaign – we have a solution for you. Contact us now for a free quote.